Taking a cue from the incredible British photographer, Kevin Mullins, I want to start doing some quick little posts with just a single photo, and a little bit about why I that particular photo sticks with me.
I just got back from an engagement shoot in one of my favorite little spots in St. Paul with Kaye and Johnny. Their wedding is coming up this fall and I was just thrilled to finally get to meet them in person. Why do I love this photo? Because these two trusted me enough when I told them to run hand in hand on a muddy, tree-root-studded path through a little ravine, to just go ahead and do it. The abandonment to joy and the sheer silliness of it seals it for me. Beautiful light in this little grove doesn't hurt either, but I just can't get over how happy they are, her hand holding on to his, arms and bodies catching each other's balance. It just plain makes me happy.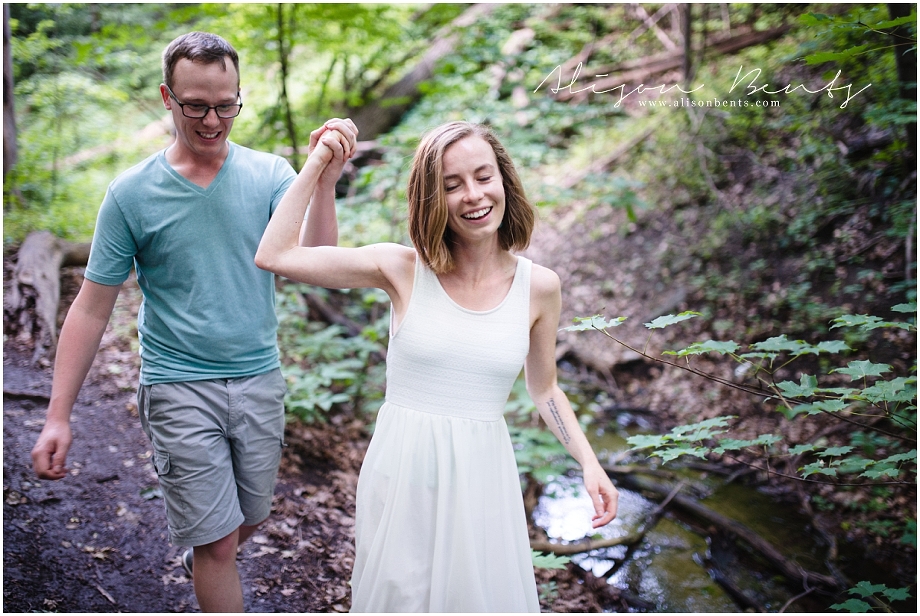 Weddings | Families | Seniors | Personal
Book your session
Ask about your wedding date
Alison Bents is a St. Paul, Minnesota photographer specializing in Family and Senior portraits and Wedding Photography. She lives in St. Paul with her husband, son and dog who have all put up with her lens pointing their way for a long, long time. Alison is now booking 2017 and 2018 weddings and portrait sessions on an ongoing basis. Serving Minneapolis, St. Paul and the greater metro area, she is also available for travel nationwide.