It's full of motion blur, of arms flying everywhere, of cropping off at joints and heads, and this just may be one of my very favorite shots from this remarkable family's fall photo session. Why do I love this photo? I love Mom's loving and genuine smile as she looks down at her oldest son. I love the younger son's arm wrapping all the way around Dad's legs, his face completely buried under his baby sister. I love the oldest daughter's tight, tight squeeze, all the way around her brother and around Dad's legs. I love baby sister's clear, calm gaze, her wonderful, chubby, baby ankles dangling just above her brother's shoulders. I love the motion blur – the activity and intensity of this spontaneous and exuberant family squeeze. It's such a moment in their family, too. Give it another year or so and older brother may well hesitate before diving into the fray. Younger brother would likely think twice before jumping in underneath his baby sister. But in this exact moment, the big embrace of it all is just perfect. Gall dang, do I love this photo.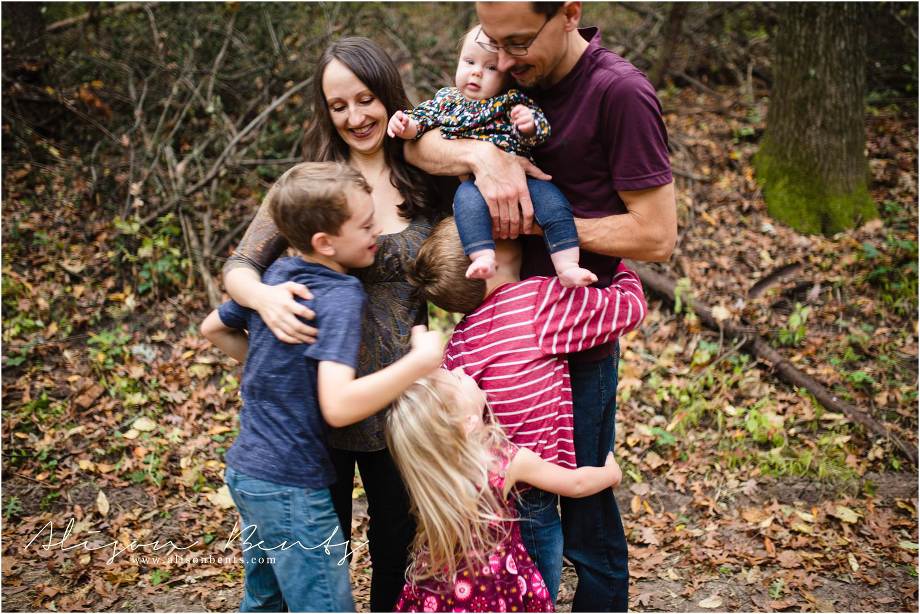 Weddings | Families | Seniors | Personal
Book your session
Ask about your wedding date
Alison Bents is a Minnesota photographer specializing in Family and Senior portraits and Wedding Photography. She lives in Rosemount with her husband, son and dog who have all put up with her lens pointing their way for a long, long time. Alison is now booking 2017 and 2018 weddings and portrait sessions on an ongoing basis. Serving Minneapolis, St. Paul and the greater metro area, she is also available for travel nationwide.