Autumn is quickly winding to a close. These last few storms have stripped almost all of the trees of their leaves and it's starting to smell like snow out there. Now, maybe you've been looking at all of the gorgeous photos popping up on instagram, on facebook, on tumblr, all over the blogs and have been thinking, "Galldangit- we missed it! Our one shot at getting the perfect holiday card photo, to document our family and our relationship forever is gone!" Well, never fear – I've got you covered.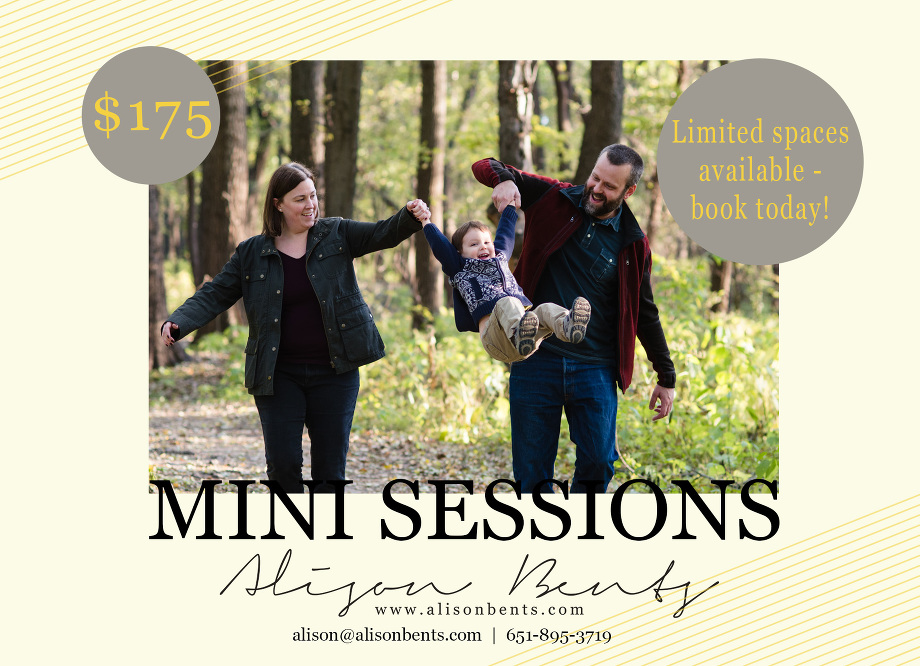 The nitty-gritty details:
Saturday morning, November 28, 2015
Saint Paul, Minnesota
* $175, no more than 5 people per session, please
* 20 minute photo session – we'll spend a little time with more "formal" portraits and a little more time just playing and enjoying this moment together
* password-protected online gallery
* 10 high resolution images delivered by digital download
* print release – allows you to print wherever you'd like, and also to share the images over social media
Payment and signed agreement required to book your spot.
These are likely to fill up quickly, so be sure to drop an email or a contact my way – I can't wait to work with you!
Weddings | Families | Seniors | Personal
Alison Bents is a St. Paul, Minnesota photographer specializing in Family and Senior portraits and Wedding Photography. She lives in St. Paul with her husband, son and dog who have all put up with her lens pointing their way for a long, long time. Alison is now booking 2016 and 2017 weddings and portrait sessions on an ongoing basis. Serving Minneapolis, Saint Paul and the greater metro area, she is also available for travel nationwide.