This is not the first time I've worked with this lovely family, but it is the first time that I got to meet little Jonah. Dad works to soothe him while mom is just out of the frame, and big sister works diligently away on her activity book, occasionally questioning whether this just here could be done in pencil or pen. And while this image is so much a particular image for this family – in their home, with their belongings around them, the exact traits and characteristics of each player on display – it's also so universal. I see this image and also think of our own home when we brought our youngest home. Trying to learn what would best soothe her while also trying to keep our older kiddo happy. I know both of my kids knew that pinky in the mouth trick. I see this image and I immediately am transported into this moment, even though it's not a big and shining event-type of moment. It's exactly that everyday-ness that speaks the loudest. I really do love this photo.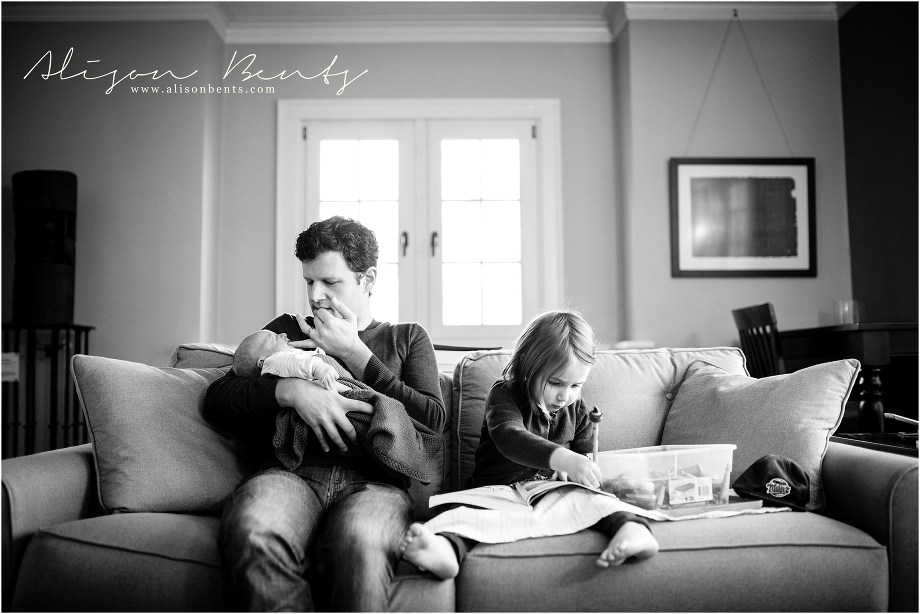 Weddings | Families | Seniors | Personal
Book your session
Ask about your wedding date
Alison Bents is a Minnesota photographer specializing in Family and Senior portraits and Wedding Photography. She lives in Rosemount with her husband, two children and dog who have all put up with her lens pointing their way for a long, long time. Alison is now booking 2018 and 2019 weddings and portrait sessions on an ongoing basis. Serving Minneapolis, St. Paul and the greater metro area, she is also available for travel nationwide.